We are aimed at offering customer the turnkey project for their thin-wall container molding plant set up help customer establish plant according their investments. We have rich experience inoffering customer the turnkey production line. Actually, we have made more than 50 turnkey thin-wall containers production line for our customers from all overthe world.
General thin-wall container has three types: round, oval, square, and the wall thickness of thin-wall container is less than 1 mm, but our company has successfully done 0.4mmwall thickness container molds to help customer cut material cost. If you want tomake 1L container mold, the best wall thickness is 0.5-0.6mm, but if the volume is 2L,0.6-0.7mm must be best choice. The material of thin-wall container usually chooses PP,and the shrinkage rate is 1.5% 2.0%. About MFI melt index, the thinner wallthickness, the bigger melt index. The greater the melt index, the better liquidity,but the worse toughness.
Inorder to realize high productivity, we offer high speed injection moldingmachine with robot system. For example, for 4 cavity 500ml thin-wall container mold with 0.38mm wall thickness, the cycle time is less than 3.8 seconds. And we can select all the necessary auxiliaries for the whole production line, like auto loader, air dryer, chiller, crusher, conveyor and so on.
If you are seeking for thin-wall container molding solution,pls feel free to contact me, Iam glad to reply you.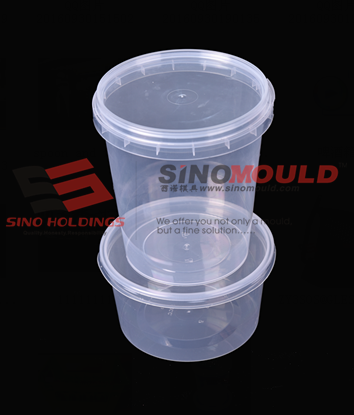 Post by Miss Mandy
Email: service32@sinomould.com
Whatsapp: 008615757610702