As china famous injection molds maker, Sino has more than 25years experience in injection molds making. Especially, in the field of PET water bottle molds manufacturing.
For water bottle item supplying, you need the following molds:
1. PET preform mold
For water bottle,usually is 150ml, 250ml, 300ml, 330ml, 500ml, and 750ml. Bottle capacity different, PET preform gram weight also is different. For example, 8g usuallyfor 150ml, 16-18g for 500ml. For PET preform mold, usually mold steel is S136,mold base is P20. We will adopt independent self-locking mold structure to avoid products eccentricity and keep mold life longer.
2. Bottle blowing mold
Usually for blowing mold, we use P20 or Al, it depends on customers' requirement, and for bottle mold, according to your capacity requirement, we can make mold with 2cavity,4cavity, even more as appropriate.
3. Caps mold
For cap mould, raw material usually is PP, as preform mold, mold steel is S136. For cap, common neck is 28mm PCO, 28mm BPF, 28mm ROPP, etc. As we know, there is anti-theft ring at cap. To make this ring, there are two ways. One is by slider, molding in mold. Another way is making by cutting machine after molding. For caps projects, you need to consider it.
Sino supply high quality PET water bottle molds, any interests, welcome send your inquiry to us! We will be happy to offer you best solution.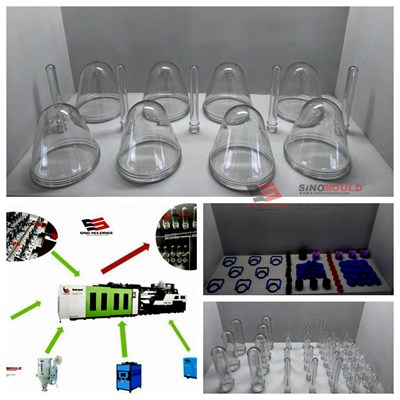 Miss.Ysaline
Wechat/tel:+86 138 5763 5311
Email:export12@sinogroupe.com