SINO MOULD is professional in making PET preform moulds with different cavity in China. If you are looking for making PET preform mould company with good price and high quality, welcome to contact me.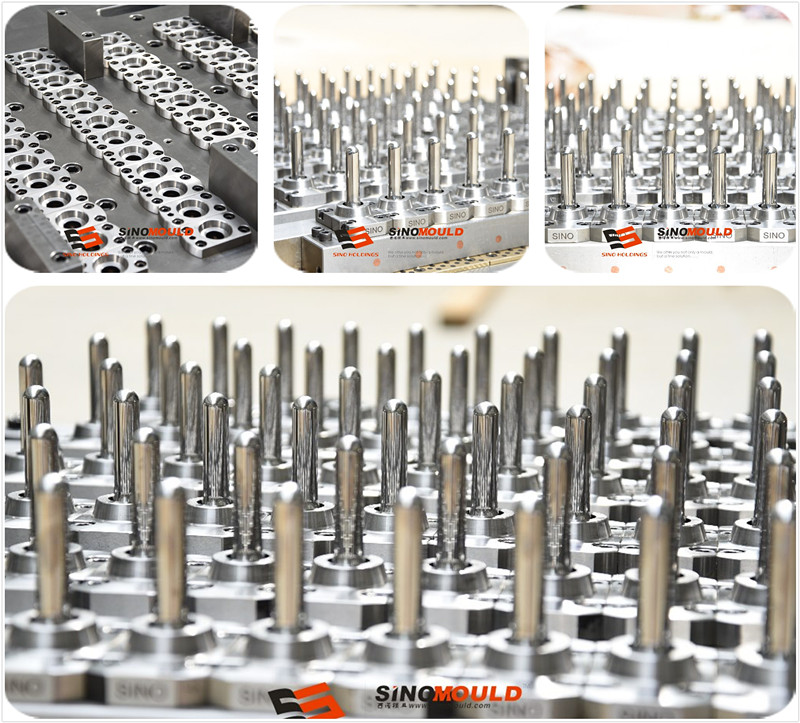 We made preform mould 20-50sets for each month, and accumulated rich experience. For injection gate,we used valve gate with hot runnerin most condition. It will be beautiful surface and save material and save labor cost to cut the tail. It is better than short tail and long tail.
For cav/core steel, we use stainlesssteel S136, made in Sweden, the hardness HRC40-44. It can make sure the guarantee mould life time (our company can make 5,000,000 shot.) and have good polish. For mould base, we use 2311, the hardness HRC28-31. Good steel is important for a mould.
For making preform mould, we have special department to follow up. They all made PET preform mould with 10years experience. They know preform mould just like myself.
For testing preform mould, we have own brand injection machine to test. Our factory have special injection machine for testing PET preform mould, named PET injection machine.
So if you want to make higher quality and reasonable price PET preform mould in China, Sino Mould is your best choice.
Email: sino1507@sinomould.com
Whatsapp/Mobile/Wechat: 008615215806623