PET preform mould is one of the biggest needed in the market. Areyou looking for good pet preform mould manufacturer? Come to Sino , Sino Mould isexperienced in various kinds of plastic mould making .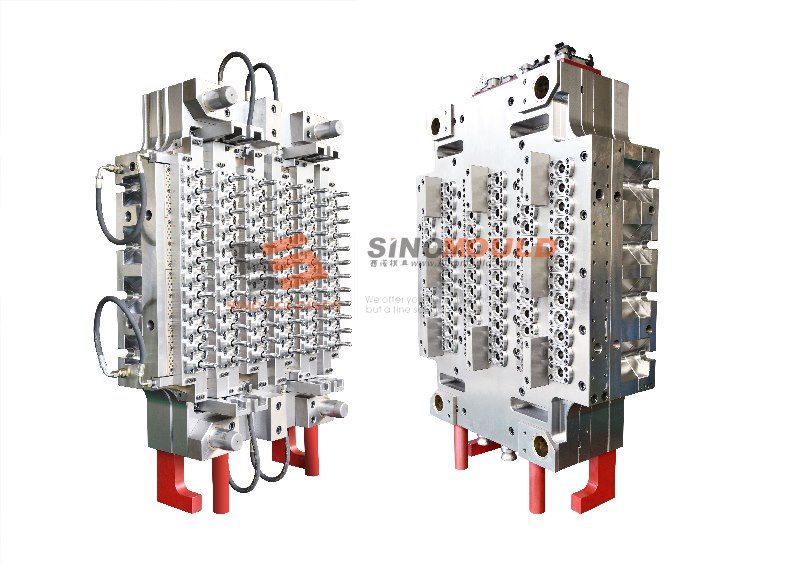 A lot of beverage manufactures are purchasing good pet preform mouldfrom China, China PET preform mould manufactures supply good price , goodperformance PET preform mould. Sino isfocus on providing customers customers many kinds of cavities mould, it dependson customer's output and demand. We can supply 8 cavity preform mould, 12 cavityperform mould, 16 cavity preform mould, 24 cavity preform mould, 32 cavitypreform mould, 48 cavity preform mould, 72 cavity preform mould…..
According to our experience,
We always suggest that:
Steel
1. Core and cavity are made of S420material (Sweden ASSAB).
2. P20 mould plate, avoids corrosionefficaciously and assures long life service of the perform molds.
3. Good heat treatment of the components,which assures the hardness of components HRC48-HRC50
If you have some new project for PET Preform Mould and want tocustom PET Preform Moulds.
Please feel free to contact us, Sino Mouldcan offer you good quality and high guaranteed life time with the best price.
Rose:
E-mail:sale66@sinogroupe.com
Whatsapp/tel:+8613738591683
Skype: live:sale66_5