Sino Mould has strong management for tequality and tooling precision control,and has our own R&D department for project research and new item development,with advanced software for design and analysis for the project.We also have more than 30 engineers for mould analysis and mould design, and we own a top mentality working team for project management, quality inspection and processing control.
During our years,we have develope dinternational market for OEM and after-sales market for brand asSUZUKI,HONDA,NISSAN,TOYOTA,,and so on. We extend our warmest welcome to you paying a visit and SINO HOLDINGS.
SINO Automotive company is also successful indeveloping various plastic injection molds through superior platics technology for automotive interior trim parts, such as instrument panel,door trim, glovebox, console box cup holder,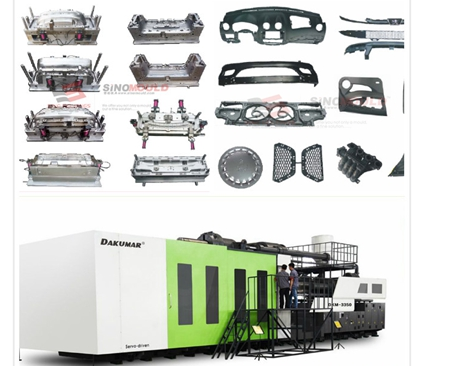 Bumper Mould:
Steel Types:DIN1.2738
Injection system: Synventive sequence nozzles
Ejection system:
Hydraulic cylinder
Mold cycle time:45s
Mould delivery:110working days,
Surface finishing:moldech,texture
For auto lamp injection molding, apart from custom auto lamp plastic molding machine,molding technology is the key points.Sincecar lamp is transparent and be used in car industry, the quality requirement issuper-high, so during auto lamp parts molding,any bad finishing can not be accepted, thusthis requires high car lamp molding technique, plastic material must be driedadvance,molding t emperature setting,back pressure are important.
Post by:Ms.Amanda
whatsapp/tel:0086 13867653757
E-mail:service5@cnmould.com